America Crossing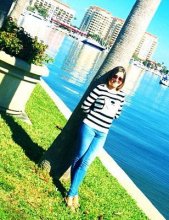 The sun, the ocean, the palms... I'm in St Petersburg. No, I didn't really agree. It's Peter. But it's different. Not the majesty city, not the northern capital of Russia. This is my new home in Florida, on the Gulf of Mexico.
United States travel became one of the most vivid and memorable events in my family's life. How did we do that? I think a lot of people know that it's hard to legally move to America. We found this way, though... Maybe the fortun found us. I think each of you at least heard of a green card. Green card is your green light in the world of American dreams. So... ta-da-da... we won it! Yes! There is a lottery officially implemented by the U.S. Government, under which 55,000 immigration visas, i.e., those cards, are used annually.
I'd like to warn those people who have broken their head to googling. First, there are very many fraudsters on the Internet that offer to fill out applications for participation, pay them money and do a lot of bad things. Second, stop! Lottery's totally free, you don't need intermediaries, and you can fill out the application yourself on the U.S. government website within a time-bound period, usually from late October to the end of November. The probability of winning is very small, I'd say it's nothing, but there's a chance. And we're the best proof.
When we found out about the winnings (My husband's application won, but by the rules of the lottery, the whole family is going away: spouses and children), our rabid luck was no limit. We are the champions. But it was only halfway. Initially, 100,000 lucky people are selected, of which only half will get a visa. There was an interview with the U.S. Embassy in Russia, the collection of documents, the exact months of expectations of the scheduled date and our silence. No one knew or knew about the great changes in our lives. Only parents.
Related posts: